20 x 44 GLI Secur-A-Pool Mesh Safety Cover with No Step
$932.00
20 x 44 GLI Secur-A-Pool Mesh Safety Cover with No Step (20-2044RE-SAP)
Description
20 x 44 GLI Secur-A-Pool Mesh Safety Cover with 12 Year Warranty
The 20 x 44 GLI Secur-A-Pool Mesh Safety Cover is renowned in the industry for its strength, durability, and ease of installation. In addition, it is a maintenance-free cover that provides pool owners complete peace of mind during the off-season that their pool investment is not only protected against the elements but also, will not pose a danger to unexpected visitors. The Secur-A-Pool Safety Cover is renowned for its strength, durability, and ease of installation. It is the easy-to-install, no maintenance cover that gives the pool owner total peace of mind during the off-season. If you open early in the spring, don't have large amounts of leaves and debris in your yard, or you don't fully winterize your pool but need the security of a safety cover – this is the cover for you!
A new safety cover is the first step to creating a safe backyard during the off-season. Your standard Winter Cover is no more than a tarp held down with water tubes, providing little to no protection from the accidental intrusion of children or stray animals. A GLI Safety Cover is a safe solution for any homeowner. Not only will your backyard look great, but installation is easy and the "Peace of Mind" that you will carry through-out the winter months is well worth the investment. You can trust that each and every safety cover is created to ASTM Standards, with superior craftsmanship and industry best shipping lead times.
20 x 44 GLI Secur-A-Pool Mesh Safety Cover Features:
Secures pool from children, pets and stray animals
Improves the look of your pool in the off-season
Lightweight Polypropylene Mesh for easy installation and removal
Improved and increased weave count within our polypropylene mesh fabric ensures added strength, sustainability and shading protection
The tamper-proof design prevents entry without an installation rod, while still allowing for installation and removal in mere minutes
Patented mesh material blend eliminates any standing water hazards by allowing water and melting snow to drain through and minimizing damage risk
Automatically screens out dirt and debris for quick, easy and fuss-free springtime opening
Created with the finest materials in the industry for strong, safety-first protective results
Meets or exceeds all safety cover performance standards as set forth in ASTM F 1346-91
Standard 12-Year Limited Warranty
The Importance of ASTM Standards
ASTM, the American Society for Testing and Materials, is an internationally recognized organization that develops technical standards for a wide range of materials, products, systems, and services. ASTM certifications are used worldwide to ensure product quality and safety. Recognizing the importance of these safety standards, all of GLI's safety covers undergo rigorous testing and compliance to ensure each and every safety cover is manufactured to meet or exceed ASTM F 1346-91.
Included Installation Hardware
GLI Secur-A-Pool Mesh Safety Cover with 12 Year Warranty
If you have questions about our GLI Secur-A-Pool Mesh Safety Covers please feel free to give us a call at 1-800-515-1747 or send us an email, sale@poolwarehouse.com.
At Pool Warehouse, We Know Swimming Pool Kits!
Best Pool Covers
Americas Favorite Source For Pool Covers!
Additional information
| | |
| --- | --- |
| Brand | GLI Pool Covers |
| Google Product Category | Home & Garden > Pool & Spa > Pool & Spa Accessories > Pool Covers, Home & Garden > Pool & Spa > Pool & Spa Accessories > Pool Covers & Ground Cloths |
| Cover Color | Blue Mesh, Green Mesh, Grey Mesh, Tan Mesh |
| Pool Cover Style | Mesh Safety Covers |
| Pool Cover Type | Inground |
| Pool Cover Shape | Rectangle |
| Pool Cover Size | 20' x 44' |
Deck Anchors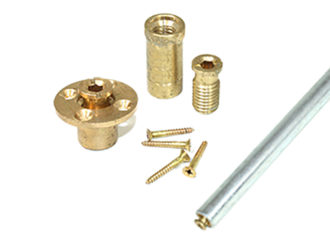 Universal brass anchors or aluminum lawn stakes for securing in-ground swimming pool safety covers. Made from high-quality brass metal (aluminum for stakes) – longer durability in harsh cold weather. Concrete deck anchors are included in the pool cover kit.
Brass Anchors for Concrete Decks + $0
Brass Anchors for Wood Decks + $150
Brass Anchors For Wood & Concrete Deck Combo + $125
Aluminum Lawn Stakes For Landscaping + $175
Concrete Deck Anchors
The brass concrete anchor is the most common type of safety cover anchor used. The standard cover anchor is threaded and 1/16″ wider at the top. When tapped into the hole, it press-fits into place, holding the anchor body stationary, as you turn the threaded insert up or down.
Using a rotary hammer drill with a 3/4″ masonry bit, place a piece of sturdy tape around the bit at 2-1/4″, so you know when to stop drilling. Hold the drill perpendicular to the deck when drilling, to create a vertical hole. After drilling the hole, remove the dust, then tamp the anchor into the hole, using a tamping tool so you don't damage the keyhole or bend the rim of the anchor.
Wood Deck Anchors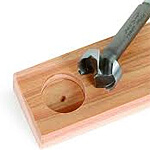 The wood deck anchor has a wide flange on the top of the anchor, to protect the deck and hold the cover securely with more lateral strength.
First, drill a counter-sink hole, 3/16″ deep, using a Forstner bit of the right diameter, so the anchor flange will sit flush into the wood, and not be a toe-stubbing hazard. Next, using a 3/4″ wood drill bit, drill a hole in the center, all the way through the wood. Drop the wood anchor into the hole, and then screw in the brass flange screws, using a #2 Phillips screw head.
Lawn Stakes
This style of cover stake is designed to be installed in the yard around the pool where no concrete or wood decking has been used.
The lawn stakes should be installed sloped away from the pool (as opposed to straight up and down like other cover anchor types), which allows the lawn stake to be straight up and down once the cover is under tension. It is common to need to reinstall these stakes into the ground yearly as they will be loose after a snow load on the cover.
Winterizing Kits
Our Pool Winterizing Kits include all the chemicals and/or chlorine you will need to close your swimming pool this fall! The winterizing kits are made to properly work for a maximum of about 4 months.
Before starting to winterize your swimming pool make sure to have the proper tools on hand. You will need the swimming pool cover, the water tubes (when applicable), the plugs the skimmers (Gizmos), skimmer winter covers and plugs for return jets and your winterizing chemicals. You will also need an air compressor or a powerful shop vac. You need these items for proper winterization.
For more information on how to winterize your in-ground pool kit please check out our blog.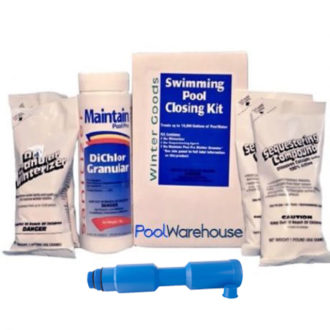 Chlorine Pool Winterizing Kit
Dry Granular Winterizer
Sequestering Compound
Di-Chlor Shock
Pool Closing Instructions
Available in 15,000 Gallon or 30,000 Gallon (with or without Gizzmo)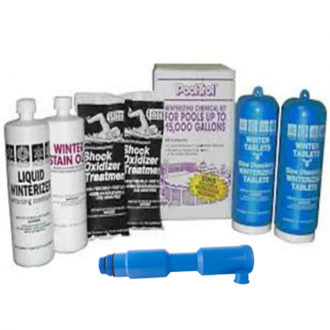 Non-Chlorine Pool Winterizing Kit
Dispensers for Winter "G" Tablets
Liquid Winterizer
Winter Stain Out
Shox Non-Chlorine Oxy Shock Treatment
Pool Closing Instructions
Available in 15,000 Gallon or 35,000 Gallon (with or without Gizzmo)
If you are using the green Gizmos to plug your pool skimmers, check them out and make sure that they are not cracked. This is very important when dealing with gizmos. Gizmos with holes or cracks will not work!