18 x 36 Hydra-Heavy Weight Solid Safety Pool Cover
$1,289.00
18 x 36 Hydra-Heavy Weight Solid Safety Pool Cover (18x36RECTANGLEHW)
Description
18 x 36 Hydra-Heavy Weight Solid Safety Pool Cover
Virtually Rip & Tear Proof! The 18 x 36 Hydra-Heavy Weight Solid Safety Pool Cover is made from heavy-duty deluxe material that is 35% heavier than our standard material and will not tear or rip easily. Our 18 x 36 Rectangle Hydra-Heavy Weight Winter Pool Covers are American Made from heavy-duty 12oz reinforced material.
These top of the line rectangle solid swimming pool covers that combine a unique extra-strength vinyl with superior sewing techniques giving each cover enhanced durability that will hold up under years of extreme weather conditions. Our Taffeta reinforced swimming pool covers resist wearing and provide superior strength which other non-reinforced covers cannot duplicate. These rectangle solid swimming pool covers are meant to keep rain and melting snow out, leaving properly treated water clean and clear till spring. Remember these pool covers are solid, standing water must be pumped off the top to prevent drowning risks to children or pets that might stray onto the pool cover. Pool Warehouse also offers this cover with a mesh drain for those who love the advantages of a reinforced cover but don't want to pump off puddled water. All of our rectangle swimming pool covers are American Made! Pool Warehouse carries only the best pool covers!
Extra Strength Not Found In Other Covers
Triple stitching cross tack and box at all perimeter stress points
Straps run on both top and bottom of the cover for added strength and durability
Raised rub strip to prevent chafing on coping
All covers include concrete brass anchors, stainless steel springs, covers for springs, buckles, and installation tool
Warranty – 20 Years pro-rated
High Shade Density to reduce algae growth
UV Resistant
Chemical Resistant
Mildew and Rot Resistant Pool Cover Material
Non-Absorbent Material
Breaking Strength: 240 lbs. psi.
A nylon taffeta material is bonded between two layers of PVC for added strength, meaning the material will fail before this bond separates!
12 oz
American Made!
Added ethylene reinforcement strips are sewn onto every anchor point help protect your pool and coping from damage even under the most extreme weather conditions. No other in-ground swimming pool cover on the market can give you this kind of peace of mind.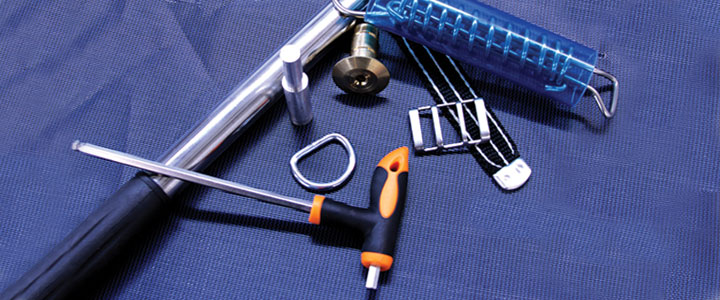 18 x 36 Rectangle Hydra-Heavy Weight Winter Pool Covers Equipment:
Heavy-Duty Hex Key Tool
TruSteel Springs and Spring covers for all anchor points
Brass Anchors and flanges for all anchor points
TruSteel D-Rings
Aluminum Anchor Installation Tool
Stainless Steel Ladder Lock, not cheap plastic!
Stainless Steel Cover Installation Tool
Pool Warehouse
Americas #1 online inground swimming pool kit retailer! Call with questions about our American made 18 x 36 Rectangle Hydra-Heavy Weight Winter Pool Covers.
Open: Monday-Friday 7am-6pm
Phone: 800-515-1747
sales@poolwarehouse.com
Pool Warehouse, We Know In-ground Swimming Pool Kits!
Best Pool Covers
Americas Favorite Source For Pool Covers!
Additional information
| | |
| --- | --- |
| Brand | Hydra Pool Covers |
| Google Product Category | Home & Garden > Pool & Spa > Pool & Spa Accessories > Pool Covers, Home & Garden > Pool & Spa > Pool & Spa Accessories > Pool Covers & Ground Cloths |
| Pool Cover Style | Solid Safety Covers |
| Pool Cover Type | Inground |
| Pool Cover Shape | Rectangle |
| Pool Cover Size | 18' x 36' |