16 x 40 Arctic Armor 18-Year Mesh Safety Cover (Cover Color: Green Mesh, Step Location: Right Step + $100)
$1,225.00
16 x 40 Arctic Armor 18-Year Mesh Safety Cover (Cover Color: Green Mesh, Step Location: Right Step + $100) (WS356G)
Description
16 x 40 Arctic Armor 18-Year Mesh Safety Cover
The durable 16 x 40 Arctic Armor 18-Year Mesh Safety Cover is strong enough to support your entire family, yet light enough to put on or remove from your pool in five minutes or less. Arctic Armor covers are made of super-strong two-ply mesh with a break strength of over 4,000 lbs. During use, the cover is held in place with brass anchors. These anchors recess flush with the deck when the cover is not in use. Rest assured that your children and pets are protected from accidental drowning. In addition to its safety features, Arctic Armor affords excellent winter protection for your pool. It's fine, lightweight mesh allows rain to seep through but screens out leaves and debris. Spring clean up is a snap because no water collects on the cover. The cover comes complete with brass anchors, stainless-steel springs, installation tool, and storage bag. Backed by an 18-Year Warranty. Available in Blue, Green or Tan.

Arctic Armor 18-Year Mesh Safety Cover Features:
Drill and tamp style brass anchoring system permanently secures anchors in concrete
Multi-seamed stitching ensures safety and prevents wear and tear
Stainless steel hardware resists damage from the elements
High scrim mesh panel design lets water though but protects pool against dirt and debris
Reinforced wear strips on the underside of the cover to guard against cover abrasion and fraying
Comes complete with all hardware to install on concrete decking
Includes brass anchors, stainless steel springs, installation tool, storage bag, and installation guide
Guards Your Children & Pets As It Protects Your Pool!
Included Installation Hardware
Online Since 1998 – For Over 25 Years Pool Warehouse Has Been Helping Customers Just Like You!
Best Pool Covers
Americas Favorite Source For Pool Covers!
Additional information
| | |
| --- | --- |
| Brand | Arctic Armor |
| Google Product Category | Home & Garden > Pool & Spa > Pool & Spa Accessories > Pool Covers, Home & Garden > Pool & Spa > Pool & Spa Accessories > Pool Covers & Ground Cloths |
| Cover Color | Blue Mesh, Green Mesh, Tan Mesh |
| Step Location | Center End Step +$100, Left Step +$100, No Step, Right Step + $100 |
| Pool Cover Style | Mesh Safety Covers |
| Pool Cover Type | Inground |
| Pool Cover Shape | Rectangle |
| Pool Cover Size | 16' x 40' |
Deck Anchors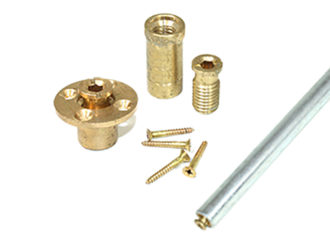 Universal brass anchors or aluminum lawn stakes for securing in-ground swimming pool safety covers. Made from high-quality brass metal (aluminum for stakes) – longer durability in harsh cold weather. Concrete deck anchors are included in the pool cover kit.
Concrete Deck Anchors
The brass concrete anchor is the most common type of safety cover anchor used. The standard cover anchor is threaded and 1/16″ wider at the top. When tapped into the hole, it press-fits into place, holding the anchor body stationary, as you turn the threaded insert up or down.
Using a rotary hammer drill with a 3/4″ masonry bit, place a piece of sturdy tape around the bit at 2-1/4″, so you know when to stop drilling. Hold the drill perpendicular to the deck when drilling, to create a vertical hole. After drilling the hole, remove the dust, then tamp the anchor into the hole, using a tamping tool so you don't damage the keyhole or bend the rim of the anchor.
Wood Deck Anchors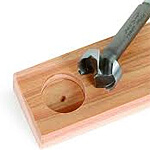 The wood deck anchor has a wide flange on the top of the anchor, to protect the deck and hold the cover securely with more lateral strength.
First, drill a counter-sink hole, 3/16″ deep, using a Forstner bit of the right diameter, so the anchor flange will sit flush into the wood, and not be a toe-stubbing hazard. Next, using a 3/4″ wood drill bit, drill a hole in the center, all the way through the wood. Drop the wood anchor into the hole, and then screw in the brass flange screws, using a #2 Phillips screw head.
Lawn Stakes
This style of cover stake is designed to be installed in the yard around the pool where no concrete or wood decking has been used.
The lawn stakes should be installed sloped away from the pool (as opposed to straight up and down like other cover anchor types), which allows the lawn stake to be straight up and down once the cover is under tension. It is common to need to reinstall these stakes into the ground yearly as they will be loose after a snow load on the cover.
Winterizing Kits
Our Pool Winterizing Kits include all the chemicals and/or chlorine you will need to close your swimming pool this fall! The winterizing kits are made to properly work for a maximum of about 4 months.
Before starting to winterize your swimming pool make sure to have the proper tools on hand. You will need the swimming pool cover, the water tubes (when applicable), the plugs for skimmers, skimmer winter covers and plugs for return jets and your winterizing chemicals. You will also need an air compressor or a powerful shop vac. You need these items for proper winterization.
For more information on how to winterize your in-ground pool kit please check out our blog.
Chlorine Pool Winterizing Kit
Blue Wave Chlor Burst Fast-Dissolving Shock
Blue Wave Super Rust & Scale Preventer
Blue Wave Halt 50 Swimming Pool Algaecide
Blue Wave Pool Closing Kit Guide
Available in up to 7,500 Gallon, up to 15,000 Gallon or up to 30,000 Gallon
Chlorine Free Pool Winterizing Kit
Blue Wave Chlorine Free Blitz Oxidizing Shock
Blue Wave Super Rust & Scale Preventer
Blue Wave Halt 50 Swimming Pool Algaecide
Blue Wave Pool Closing Kit Guide
Available in up to 7,500 Gallon, up to 15,000 Gallon or up to 30,000 Gallon
Skimmer Plug Features:
Easy to install on wide mouth skimmer
100% Air-tight seal with Rovaseal™ technology
Freeze and shatter-proof closed cell skimmer plug
Impervious to mold, mildew, and bacteria
Chemical, temperature, and UV resistant