16′ x 32′ Meyco Rugged Mesh Safety Pool Cover (Pool Step Location: Left, Step Size: 4×8)
$1,462.00
16′ x 32′ Meyco Rugged Mesh Safety Pool Cover (Pool Step Location: Left, Step Size: 4×8) (RGM1632-LH16)
Description
16′ x 32′ Meyco Rugged Mesh Safety Pool Cover
The 16′ x 32′ Meyco Rugged Mesh Safety Pool Cover gives you the best of both worlds – the flexibility of a lightweight mesh cover combined with the durability of a solid cover. Meyco's RuggedMesh Safety Covers are developed using a mesh material built to offer a unique combination of UV protection, filtering, superior strength, lightweight and ultimate pool protection. The mesh material's special weave allows water to drain while collecting finer debris, keeping the pool water even cleaner during the winter months. Yet RuggedMesh weighs almost 50% less than the typical solid safety cover. Rated at almost 100% shade using a standard lightbox test, the amount of sunlight entering the pool is significantly reduced or eliminated which in turn reduces algae growth. Designed for tougher, rugged areas, the RuggedMesh has increased abrasion resistance and tear strength. It can be used in areas of rough or sharp coping, raised areas, or windy areas.
Today's Meyco covers are designed with research that spans decades of testing and improvements. With four U.S. patents, Meyco pool covers exceed all ASTM standards for safety. With Meyco, you can have peace of mind knowing you've chosen a cover that's been tested and proven by stringent standards designed to keep your family safe and your pool secure.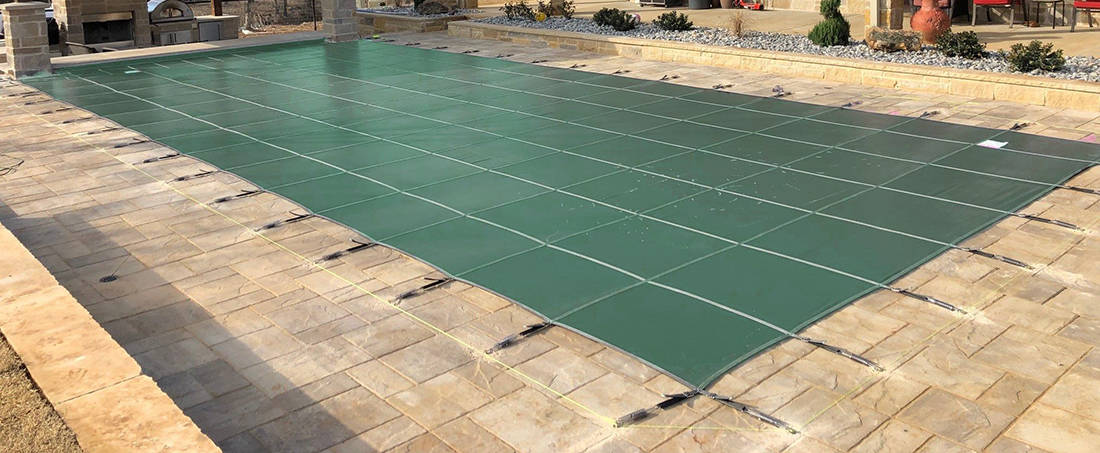 Meyco Rugged Mesh Safety Pool Cover Features:
This is an 18′ x 34′ pool cover for a 16′ x 32′ swimming pool
Available with 4×4, 4×7, 4×8 – center, left or right steps
Available in Green
12 Year Warranty
6 oz. per square yard
Thick straps and double perimeter webbing for increased tensile (break) strength
Tight weave allows water to drain from the surface while filtering out finer particles
Meyco uses 45% stronger webbing for greater durability and a longer lifespan
White, polyester bonded, UV resistant, marine thread
Stainless steel buckles and aluminum tips won't rust or stain pool decking
Non-corrosive solid brass anchors offer exceptional strength
Brass anchors disappear flush with the deck during swim season
Easy to install and remove between swim seasons than heavy solid covers
Rugged Mesh blocks 99% of sun's rays, reducing UV damage to your pool
Included Installation Hardware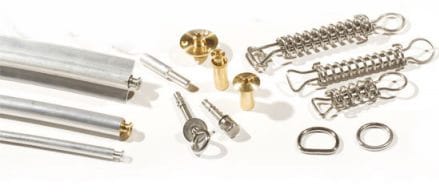 Rugged Mesh Safety Pool Cover With 12 Yr Warranty
If you have questions about our Meyco Rugged Mesh Safety Pool Cover, please feel free to give us a call at 1-800-515-1747 or send us an email, sale@poolwarehouse.com.
At Pool Warehouse, We Know Swimming Pool Kits!
Best Pool Covers
Americas Favorite Source For Pool Covers!
Additional information
| | |
| --- | --- |
| Brand | Meyco |
| Google Product Category | Home & Garden > Pool & Spa > Pool & Spa Accessories > Pool Covers, Home & Garden > Pool & Spa > Pool & Spa Accessories > Pool Covers & Ground Cloths |
| Pool Cover Style | Mesh Safety Covers |
| Pool Cover Type | Inground |
| Pool Cover Shape | Rectangle |
| Pool Cover Size | 16' x 32' |
| Pool Step Location | Center, Left, Left 1'-2' Offset, No Step, Right, Right 1'-2' Offset |
| Step Size | 3×6, 3×8, 4×4, 4×7, 4×8, 5×8, No Step |